15th Annual Barnstormers Fun Fly Cancelled
Due to COVID restrictions and concerns, the 15th annual Barnstormers Fly In has been Cancelled
We'll see you in 2021!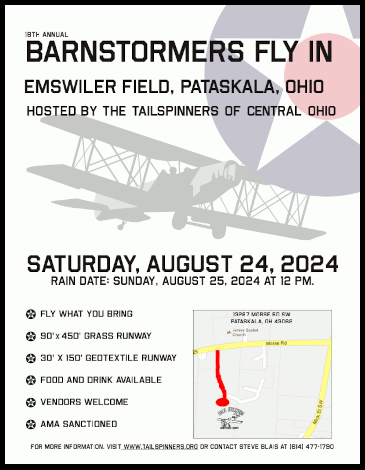 Members: look for information regarding an upcoming member fun fly to be announced soon.
No March Member Meeting
A note from  Mike,
I've been thinking a lot about this month's meeting and the need to be extra careful I've decided to cancel this month's meeting. I know City BBQ says they are taking extra steps to keep their place clean and reducing chances of virus spreading there, but you just don't know. I believe everyone's health is more important right now. 
It is dues time, and I know a lot of you pay your dues at the March meeting. You can either send in your dues to the PO Box or pay them at the April meeting. Hopefully, we get some nice weather on the weekends before long, instead of just during the week. We've had plenty of rain since the first of the year, so maybe Spring will be nicer than last year? (I know, wishful thinking) 
Everyone have a good week and stay safe.
-Mike
Time to Pay Your 2020 Dues
It's time to pay your dues again. Dues remain unchanged for 2020. Membership renewals are $75, and new members are $125 ($75 Dues, $50 one-time initiation.)
Please remember to download the membership form, fill it out and send it back in with your check. Or if you wish, we will be collecting dues at the February meeting.
Meetings are held at City Barbeque, 5979 E. Main St., Reynoldsburg, Ohio 43068.
Federal Registration Is Back On The Table

Congress recently finalized the National Defense Authorization Act (NDAA) that restores the FAA's registration requirement. So once again, all aircraft weighing more than 0.55 lbs (or 250 grams) will soon need to display registration numbers, and all pilots will be required to register with the FAA in order to be in compliance with the law. 
This bill reverses an earlier U.S. Court of Appeals decision that temporarily removed the registration requirement.
Please see the this AMA Article for more information.
Please Remember Our Good Neighbor Policy
There are times when Red our landlord hosts events on his property. On some of these occasions he would like us not to fly during the event. We try to send out emails to let everyone know in a timely matter but sometimes either members don't get them in time, forget or possibly don't care.
In the future to prevent further confusion, when Red requests that we don't fly during an event, We will block off the driveway to the field and post a notice to the website during this time. This along with the long standing request that we keep vehicles on the gravel driveway and off the surrounding grassy areas should hopefully help get the message out when the field is closed.
We will continue to try and send out notice of these events ahead of time. I know nothing is worse than loading up the truck and driving all the way out, only to find the field closed. Well, perhaps it's better than not having a field to go to at all.
Please honor Red's simple request and help us maintain the good relationship we have with our landlord.